Baby Shoes: Finding The Perfect Fit
Every child's feet grow differently and at different times. In fact, your child's feet could be smaller or larger than the recommended size for her or his age. That's why it's best to get your child's feet measured every few months.
To measure your child's feet at home, download our FOOT MEASURING TOOL or use a ruler or tape measure and measure both the lengths and widths of your child's feet. Make sure that each foot is fully extended and double check that your child's toes aren't curled. For the length, measure from the heel to the longest toe. For the width, be sure to measure the widest part of the foot. Don't worry if you end up with slightly different measurements: children (and adults) often have size variations between their feet. Using the longest and widest foot, choose a size from the charts below.
Please note, our size recommendation will be slightly larger than your child's foot to provide room for healthy foot growth and for longer usage. If you find yourself debating between two sizes, always opt for the larger of the two, and if your child's feet are particularly chubby consider sizing up based on their measurements.
Please Note: Certain older styles have different sizing. It is best to use the sizing chart on the actual product page to determine the best size for your child.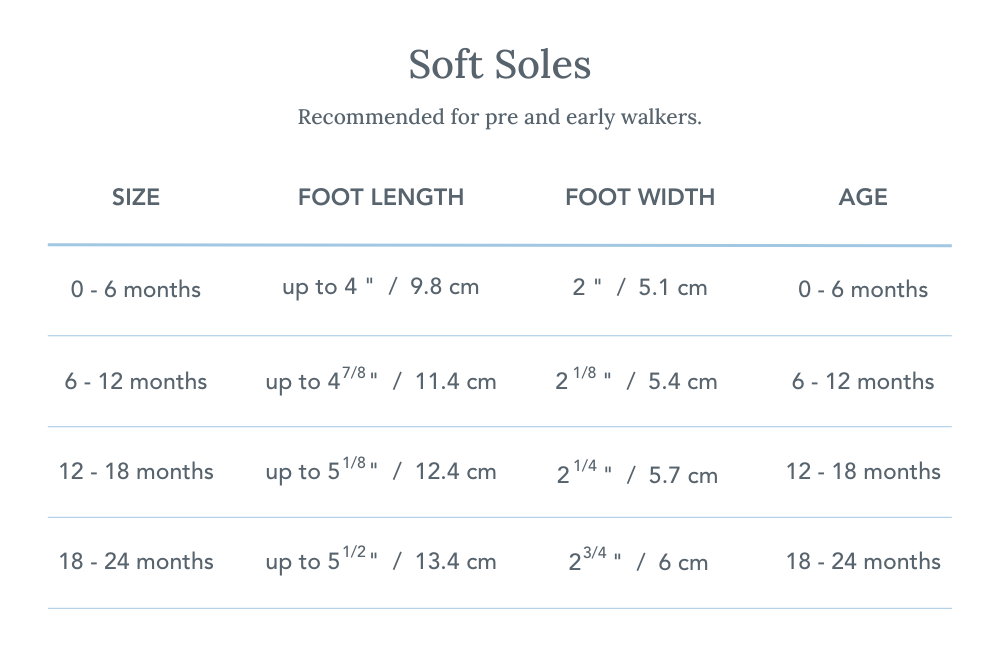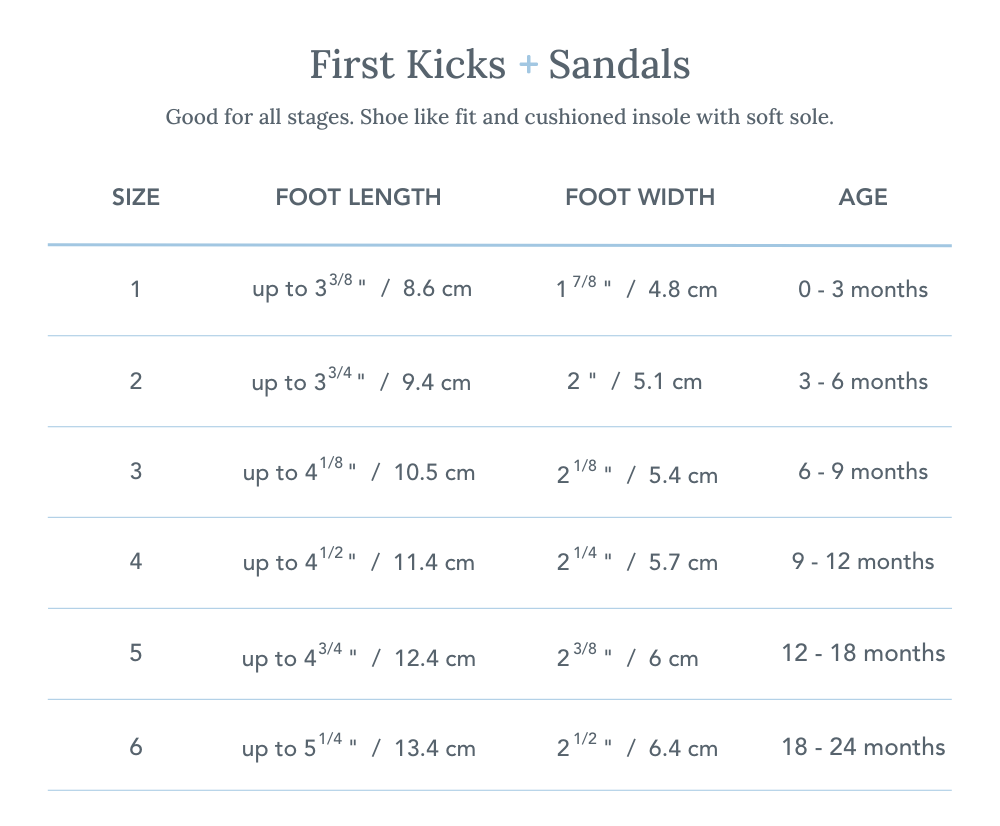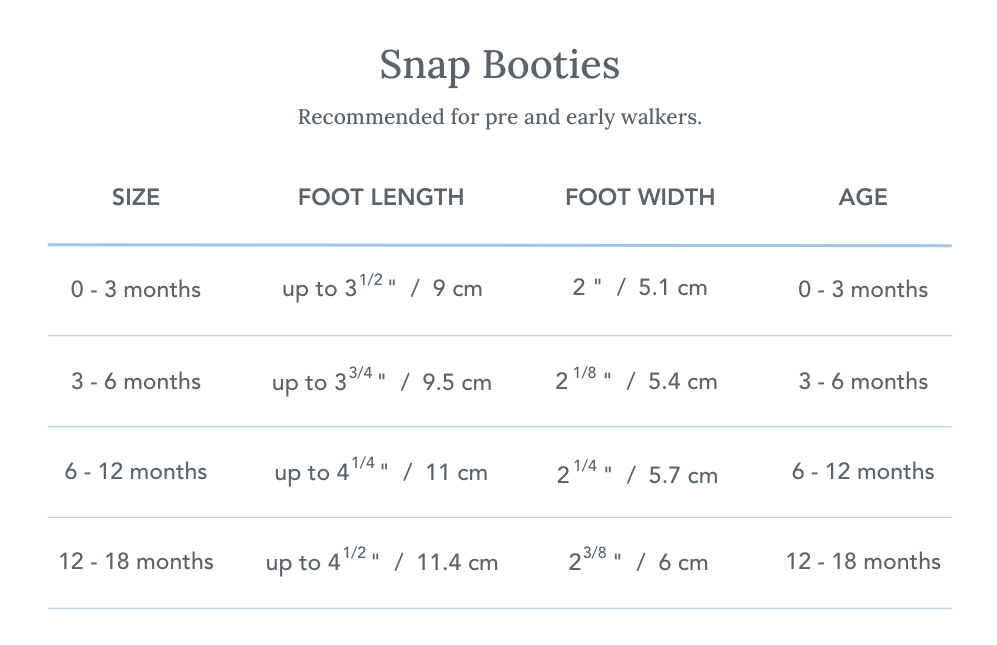 * Checking for Comfort *
Babies and their feet grow quickly, and parents should make sure that their shoes are growing right along with them. Signs that it's time for a larger size include your child frequently removing one or both shoes, teetering, frequent tripping, and dragging toes. You may even notice red marks and impressions on their feet. Whether you're noticing some of these signs—or it's simply been a few months since your child's last measurement—you can easily test the comfort of their shoes.
* How To Measure Baby's Feet *
Have your child stand with their weight distributed evenly on both feet. To check length, make sure you can press your thumb between the longest toe and the end of the shoe. Children need about ½" of space for the toes to move freely. Next, check that your pinkie can fits snugly between the heel and back of the shoe. To check width, make sure you can grasp some material at the widest part of the foot. Ideally, you should test shoes later in the day, since children's feet swell over the course of the day.
* Benefits *
- Soft Soles -
The best shoes mimic bare feet, by supporting – not constricting – tiny, growing feet. Our
Benefits
Easy On/Stays On Elasticized ankle design makes putting and taking shoe off easy for parent
Durable Comfort High quality materials provide comfort and durability
Good for Foot Development Soft, flexible sole allows foot to grip while protecting feet and giving feet room to grow
Skid-resistant Sole Suede sole prevents slipping
shop SOFT SOLES
- First Kicks -
First Kicks is our newest footwear collection! With the fit and flexibility of our Mini Shoez and the feel of our Soft Soles these shoes are the perfect combo.
Easy On/Stays On Elasticized ankle design makes putting and taking shoe off easy for parent
Shoe-like Sizing narrower and snugger fit
Good for Foot Development Cushioned insole provides protection, comfort and flexibility for healthy foot growth
Skid-resistant Sole Suede sole prevents slipping
shop First Kicks
- Mini Shoez -
Our Mini Shoez have a stylish and fun appeal as they take their fashion cues from styles that Mom or Dad might wear. They flex and bend with every step while providing extra protection as they promote good balance and unrestricted growth.

Benefits
Easy On/Stays On An elasticized back and adjustable fasteners provide "easy on, stay on" functionality
Good for Foot Development A flexible sole and cushioned foam insole maintains flexibility and comfort little feet need for healthy foot growth

Skid-resistant Sole Our non-skid split sole helps to prevent slipping and provides even more protection
shop MINI SHOEZ
Sock Sizing