Description
Blush pink leather criss cross sandal with suede sole. Flexible soles and cushioned foam insoles provide protection and comfort for healthy foot growth. Elasticized ankle design ensures they stay on little feet. Runs true to size.
Leather with suede sole
Sizing is more shoe-like; narrower and snugger than Soft Soles
Flexible soles and cushioned foam insoles provide protection, comfort and flexibility for healthy foot growth
Elasticized back and hook and loop closures provide "easy on, stay on" functionality
"Robeez" is embossed in the suede sole
Best for indoor use and light outdoor activity
Approved by the American Podiatric Medical Association
Spot clean with a mild detergent and damp cloth
Made in China
FIRST KICKS

SIZE

FOOT
LENGTH: IN

FOOT
WIDTH: CM


AGE

Size 1
up to 3 3/8"
up to 8.6 cm

*0 - 3 mos

Size 2
up to 3 3/4"
up to 9.4 cm

3 - 6 mos

Size 3
up to 4 1/8"
up to 10.5 cm

6 - 9 mos

Size 4
up to 4 1/2"
up to 11.4 cm

9 - 12 mos

Size 5
up to 4 3/4"
up to 12.4 cm

12 - 18 mos

Size 6
up to 5 1/4"
up to 13.4 cm
18 -24 mos


*size only available in First Kicks Collection
Soft Soles Benefits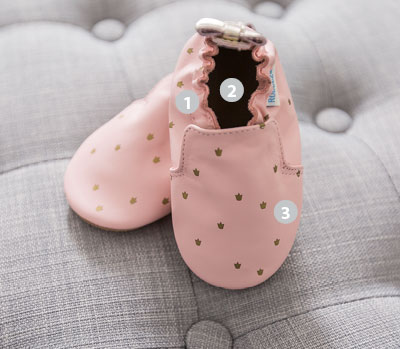 The best shoes mimic bare feet, by supporting – not constricting – tiny, growing feet. Our Soft Soles flex and bend with every step. Their soft suede sole allows feet to grip as they begin to walk and room for little feet to grow.
1. Elasticized ankle makes it easy to put shoe on or off
2. Soft, flexible soles supports healthy foot development
3. Slip-resistant soles helps prevents falls