Description
When your little girl wants to be just like you when she grows up, let her first try to 'walk the walk' in these rose gold leather shoes. With an endearing tied bow on the foot, these chic modern shoes with a split rubber sole are great for cruising with Mom for the day.
Leather with suede sole and split rubber out sole
More shoe-like fit than our Soft Soles
Flexible soles and cushioned foam insoles provides protection, comfort and flexibility for healthy foot growth
Non-skid, split rubber outsole helps prevent your child from slipping
Elasticized backs provide "easy on, stay on" functionality
Recommended that children with sensitive feet and ankles should wear socks with this shoe
Approved by the American Podiatric Medical Association
Spot clean with a mild detergent and damp cloth
Made in China
MINI SHOEZ

SIZE

FOOT
LENGTH: IN

FOOT
LENGTH: CM


AGE

Size 2
up to 3 5/8"
up to 9.3 cm

3 - 6 mos

Size 3
up to 4 1/8"
up to 10.5 cm

6 - 9 mos

Size 4
up to 4 1/2"
up to 11.4 cm

9 - 12 mos

Size 5
up to 4 3/4"
up to 12.4 cm

12 - 18 mos

Size 6
up to 5 1/4"
up to 13.4 cm
18 -24 mos

Mini Shoez Benefits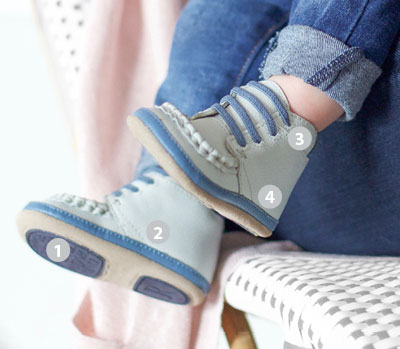 Our Mini Shoez have a stylish and fun appeal as they take their fashion cues from styles that Mom or Dad might wear. They flex and bend with every step while providing extra protection as they promote good balance and unrestricted growth.
1. Split rubber sole provides added protection and support
2. Cushioned insole gives added support and comfort
3. Elasticized ankle makes it easy to put shoe on or off
4. Structured fit has more shoe like feel