Description
Your child will be off and running when wearing these sneaker-inspired shoes! Robeez Super Sporty baby shoes are made of blue leather and have navy leather trim. These "mini-me"-style shoes also feature white faux laces.
Leather with a suede soft sole
Sizing is roomy to accommodate different feet sizes and allow for growing feet
Flexible and non-constricting, our baby shoes promote good balance and unrestricted growth while providing protection
Non-slip suede sole helps protect your child from slipping
Elasticized ankle make this baby shoe easy to put on and stay on
Half lining helps feet stay dry and cool
Perfect shoes for Infants, Babies, Pre-Walkers and Toddlers
Best for indoor use and light outdoor activity
Approved by the American Podiatric Medical Association
Spot clean with a mild detergent and damp cloth
Made in China
Soft Soles Benefits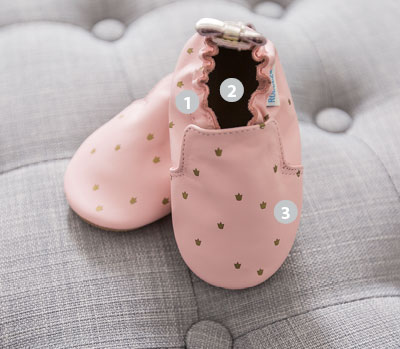 The best shoes mimic bare feet, by supporting – not constricting – tiny, growing feet. Our Soft Soles flex and bend with every step. Their soft suede sole allows feet to grip as they begin to walk and room for little feet to grow.
1. Elasticized ankle makes it easy to put shoe on or off
2. Soft, flexible soles supports healthy foot development
3. Slip-resistant soles helps prevents falls